Revised Vision Statement
The Vision Committee (VC) has met several times. After spirited conversation and thoughtful deliberation, including discussing comments related to the preliminary vision, a Revised Vision Statement was developed. Below is a link to the new vision. The VC believes our vision for the future must unite our current mission and the 4 C's (Courage, Commitment, Confidence, and Competence) with the ambitious goal of changing the world. The VC welcomes your observations and suggestions by July 10. A final version will be sent to the Board of Trustees for discussion and approval at its annual retreat on July 16-17, 2020. 
View Vision StatementGive Feedback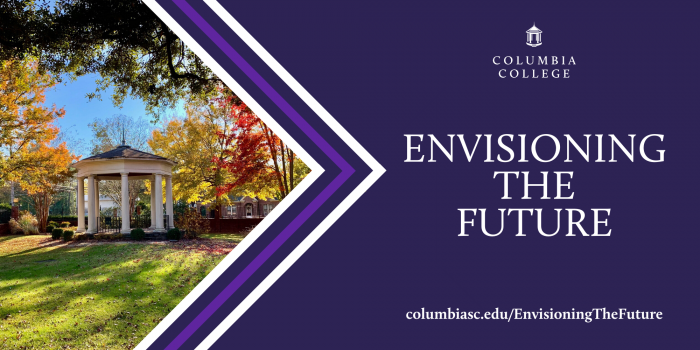 Collecting Input 
We have begun this by securing input from students, faculty, staff, retired faculty and staff, parents, alumnae/alumni, trustees, and leaders in Columbia (government, business, industry, health care, education, religion, and nonprofits). Their ideas are helping form the foundation of a vibrant vision that will further distinguish Columbia College, now as a coed college. The responses received were wonderful and assisted in bringing additional life into a document that shares with others, who our Columbia College is and can be!
Creating a Purposeful Plan
Strengths to build upon were identified, opportunities to seize were noted, and strategic directions are being aligned with purpose. The unique ethos or culture of Columbia College, and how we must preserve the distinct Columbia College Spirit are outlined and highlighted in the preliminary vision. We'll even dream big dreams about a future Columbia College that is a national model for coeducational higher education. In short, we'll preserve and also enhance what our alma mater so boldly proclaims, "she who has been, shall ever be, wise, good, and true eternally."
Dr. Mitchell Discusses the Future of Columbia College
Dr. Mitchell discusses the latest updates about the future of Columbia College. Listen as he shares our plan to remain an outstanding, academically rigorous, and well-respected institution of integrity, educating women and men, for lives of service and meaning. You'll also learn his plan for Columbia College to evolve, becoming THE premier coeducational liberal arts college here in the state capital.
Explore the Details 
We invite you to take a look at our preliminary vision, supporting materials and messages, and working group efforts. We've also compiled a list of FAQs about our process and plan. 
 Proposed Vision Statement
Message from the Board
Survey Response Summary
Frequently Asked Questions

Why is the date being moved up to Fall 2020? I thought this was going into effect in 2021?

This decision is based on two unexpected impacts of the COVID-19 pandemic: 

There is a possibility that all colleges and universities will be forced to continue conducting courses remotely via distance learning and online platforms.
Many students and parents are already declaring that if campuses are open in the fall, they plan to attend college close to home or to commute locally to avoid the possibility of having to leave in the middle of a semester again.

Will there still be a women's track? Why did you tell us it would be, and now there won't be?

No. We have decided that we will move to a fully coed model instead of having two tracks as previously discussed. We had all intentions to offer a Women's track for the first two to three semesters. However, working groups charged to explore the implementation of the two tracks in general education and major courses found it would not be a viable option. There are few courses with sufficient enrollment to be able to offer separate sections with one being solely for women. The College has chosen to focus on keeping Women's education at the center of its mission through the emphasis of Women's leadership.

I thought with Dr. Mitchell coming back to campus that the move to coed would have been put to the side and we would remain a women's college? 

Dr. Mitchell accepted the position of Interim President knowing of and approving the Board's decision to admit men into the traditional day program. His primary concern was that the announcement focused on the rationale for the decision and did not include a vision of how the coeducational Columbia College of 2020 would sustain and even enhance the values, heritage, and academic excellence of Columbia College since 1854. In announcing the decision to admit men this fall, Dr. Mitchell included a draft vision of Columbia College in 2020 that emphasizes Excellence, Relevance, Innovation and Leadership. This new vision is found on the CC web page Envisioning Future and will be reviewed and revised with input from all constituencies (faculty, staff, students, alumnae/alumni, parents, trustees and friends of the College).

Will men begin residing on campus in Fall 2020?

No. While we are currently enrolling students under the assumption that our campus will be open in the fall, we will not be ready to support men in our residential programs until 2021. Therefore, our preparation this summer will be focused on welcoming a new commuting population into our existing classrooms. 

Does this mean there will be fewer scholarships available to women attending Columbia College?

The College offers a number of scholarships, some which are endowed and others are annual awards. Many of these have specific requirements that will continue to be honored. Additionally, nearly everyone of our undergraduate residential and commuting students receive some type of financial aid. Our commitment to access and affordability remains unwavering. We also believe that our vision for being a premier coed liberal arts college in the State Capital will enable us to attract additional resources in the form of scholarships for our students. 

Do you still plan to preserve some of the Women's College traditions?

A Student Activities and Traditions work group is reviewing our current traditions. So far, the committee has found several of our traditions are already inclusive of all genders. We will be updating the language for those activities as necessary.

Does this mean ALL classes will now be coeducational?

Yes. The classes will be conducted regardless of sex/gender. For 166 years, Columbia College has provided opportunities for women to develop their voices and their leadership potential. This commitment to empowering women remains central to our mission and vision for the future. Becoming a coeducational college provides the unique opportunity to design the ideal learning environment for women and men to master the knowledge and skills necessary for success in their careers, and to craft a life of meaning and purpose in the post-COVID-19 world. 

How will students be engaged in the creation of the vision moving forward?

Our returning students, and the new students enrolling this fall, will have the unique opportunity to help shape the mission and vision of the College. The feedback and input will be important and sought virtually, for now, and in person when we are able to return to campus.

Why are resources being allocated to this and not to address current issues?

A special fundraising campaign is being initiated to pay for the new vision and marketing it. We will be addressing all issues in the next year and formulating a multi-year budget to address all financial issues.

Why couldn't we put forth the same marketing efforts you mention in the announcement into strengthening the women's college?

Multiple marketing efforts have been tried at CC and many other women's colleges, but the interest in women's colleges is so low that these efforts have not borne fruit. Consequently, the decision to admit men is the right course of action, especially because being coed is only part of the vision. The main part is being the premier liberal arts college in the Capital City.

Will security on campus be changed with the advent of men attending day classes?

One of our work groups is specifically focused on safety. We will continue to research and implement best practices for an institution our size. In addition, we will be exploring partnerships to strengthen our victim advocacy services. 

Will the Working Groups continue? 

Yes. Committees will present preliminary reports by June 30th with a comprehensive document for policy development by the Fall. Committees will continue to meet and refine their work into the new academic year.

Will Columbia College survive financially? Before COVID-19 our financial situation was not the best. How can we survive now?

These are challenging times under which we are all finding ways to adapt to the reality of today with COVID-19 changing so many lives. Columbia College recognizes the pressures we all are feeling. For this reason, and because we are Columbia College, we are committed to adapting and responding to the needs of our community, including the move to provide for students who may wish to stay closer to home or learn online. We can survive through the leadership and assistance of our incredible students, faculty, staff and alumnae who believe in the College and make a difference in her future. 

Coeducational Instruction

How many male students do you plan to enroll for fall 2020?

 We believe our vision for being a premier coed liberal arts college in Columbia, coupled with the clear trend for students to attend college closer to home will result in potentially up to 100 men. We also believe that becoming coed will attract 25-50 women who also want to stay closer to home.

Will there be a limit to the number of men in a class?

We do not limit the number of men or women in a class. We will continue to be committed to keeping our class sizes small; an environment which nurtures and fosters interaction and holistic education.

Will women be given first choice in classes?

Both men and women will be given the equal opportunity when registering for their preferred courses. 

Will there be an age limit on men allowed to enroll in day classes? For example, none over the age of 38.

There will not be an age limit for any of our students, regardless of the program in which they are enrolled.

Are faculty sufficiently trained to instruct classes that contain men?

A working group is charged with determining needs for professional development (PD) for faculty to prepare them to welcome men in their classes. PD workshops will be offered in the summer and throughout next academic year to meet those needs. 

Will fraternities for men be allowed on campus?

We will explore activity offerings based on student interest and available resources.

Will men be allowed to use the gym during the day?

Yes, just as women commuting students are allowed to use the gym. One of the many values of starting slow this year is we will be able to address unexpected problems and build on unexpected strengths from having male students in the day program.

Athletics 

What sport teams are being added?

The College is currently reviewing the addition of several athletic teams that will be available to men, with competition to take place beginning in the Fall of 2021. 

When will recruiting begin for the sport teams?

The College will begin recruiting, as sports are identified, to begin competition in the Fall of 2021.

How can I get recruited for the sport teams?

In the Fall of 2020, Columbia College and Columbia College athletics (gokoalas.com) will have on their website information for student-athletics that are considering Columbia College. 

Will other sports be added in the future?

Athletics, much like the academic programs we offer, change over time. Although we are uncertain exactly what sports will be offered in future years, we remain open to exploring various opportunities that will support our students and promote the overall mission of the College. 

Are athletic scholarships offered?

As a member of the NAIA, Columbia College is able to offer student-athletes scholarships. The amount and availability of these scholarships varies. Additionally, nearly all of our students receive some form of financial aid, making a Columbia College education affordable.   

What conference does Columbia College play in?

Columbia College plays in the Appalachian Athletic Conference (AACSports.com).

Will athletes have separate living/dorms?

Because we believe in the holistic experience of our students, we encourage our athletes to fully participate in the overall campus experience. This includes life in the residence halls with students who may not be athletes. Information on living accommodations and residence halls is found in the residence halls section of Columbia College's website. 

Who can I speak with now about Columbia College?

Admissions counselors are available to speak with any student-athlete interested in attending Columbia College.

Data/Research

Cultural shifts, population trends, and different expectations for student engagement are prompting more single-gender colleges and universities like Columbia College to expand enrollment. 

Our decision to go coed is research based. Taking a look at our own numbers, the Women's College undergraduate program has declined substantially over the last 10 years from 864 students to 641 students. 

The Columbia College Board of Trustees and President have researched changes in educational trends since 2016. What we discovered is currently less than 2-percent of female, college-bound high school students consider attending a single-gender college. 

In addition to the number of women seeking a single gender education- there's an impending 15% decline of high school graduates, and challenges facing higher education.

Female Enrollment Growth

Most schools saw a significant growth in new female enrollment after the transition to a coed model.

Male Share of New Freshmen enrollment, Four years after transition

In most cases, men remain a minority.

Undergraduate Enrollment: 2010-2019

Fall Semester (Ten-Day report) Headcount by Program

 

Planning Working Groups

Admissions

Charge: Design and implement changes for prospective male incoming students. From email communication to the tour script, implement changes to current communications and outreach to incorporate messaging that is suitable for coed.

Marketing

Charge: Design and implement changes to the website and marketing materials to incorporate messaging that is appropriate for coed recruitment. Build out a coed college section of the website to funnel prospective students to the applicable area.

Communications

Charge: To outline ongoing communication strategies for all constituencies. This will include, but not limited to emails, print, social media and in-person meetings.

Resident Life & Housing

Charge: To develop a plan for building assignments.

Inclusion Policy

Charge: Recommend changes to current policies for an inclusive campus, including the incorporation of male students and development of a supportive trans and non-binary gender policy.

Student Activities & Traditions

Charge: Recommend changes to campus activities that will engage all genders and work with student organizations to update constitutions.

Campus Safety

Charge: Outline new or revised policies and procedures to put in place to maintain the safety of our campus community.

Facilities

Charge: Work with Student Affairs working group regarding housing for male students and assist the Athletics working group with determining resources for male sports team.

Staff

Charge: Determine needs for staff development in preparation for coed environment.

Athletics

Charge: Identify and recommend the addition of sports and the accompanying needs for success in the areas of athletics.

LA Series

Charge: Review the LA series, including adding LA 401. Consider making series, except LA 1`00, required for all programs, including online and evening. Consider how to separate gender.

Professional Development – Faculty

Charge: Evaluate need for professional development to adapt courses and classroom delivery to coed environment. Plan for professional development workshop/sessions.

Academic Programs

Charge:  

Identify and evaluate which course students would most benefit from a women's only track.
Identify and evaluate which programs would attract male students.
Identify and evaluate which programs would be most feasible to implement a women's only track considering factors such as enrollment and faculty resources.
Once programs chosen, plan implementation.

General Education

Charge: 

Assess which courses should be offered with women's track sections(s)
Plan schedule for first academic year
Plan to limit choice for Gen Ed.