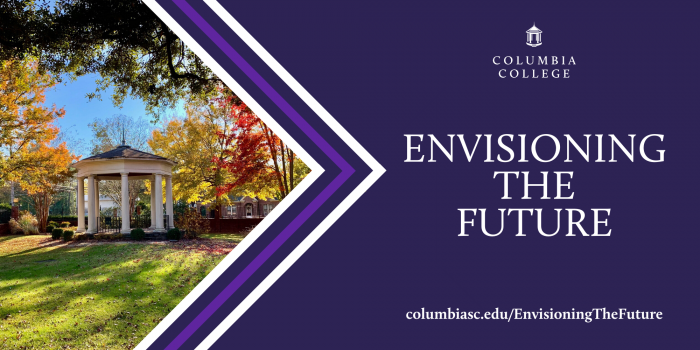 Designing the path forward toward coeducation will engage the best thinking of all of us. We will start by creating a Vision Statement for Columbia College, becoming an exemplary leader as a coeducational college. The envisioning process will be marked by transparency, creativity, and inclusiveness. The first step is to secure input from students, faculty, staff, retired faculty and staff, parents, alumnae/alumni, trustees, and leaders in Columbia (government, business, industry, health care, education, religion, and nonprofits). Their ideas will help form the  foundation of a vibrant vision that will further distinguish Columbia College, now as a coed college.
 
The envisioning process will identify strengths to build upon, opportunities to seize, and strategic directions to pursue. We'll highlight the unique ethos or culture of Columbia College, and how we must preserve the distinct Columbia College Spirit. We'll explore innovative ideas to translate the best from our past and our role in women's leadership into a new status in coeducational leadership. We'll even dream big dreams about a future Columbia College that is a national model for coeducational higher education. In short, we'll preserve and also enhance what our alma mater so boldly proclaims, "she who has been, shall ever be, wise, good, and true eternally."
How You Can Help
As identified earlier, the first stage in the envisioning process is securing input from key stakeholders (students, faculty, staff, retired faculty and staff, alumnae/alumni, community leaders and trustees). Due to COVID-19, we will conduct this initial envisioning process virtually. From this, I will share a summary of the findings and use the results to craft a preliminary Vision Statement that will be reviewed by all stakeholders
Envisioning Feed Back Form
Please complete form, ideally, by April 10, 2020. We thank you for your ideas and support in helping design the path forward.
or email us at feedback@columbiasc.edu
Town Hall Schedule

Charleston

Canceled

Charlotte

Canceled

Florida

Dates to be Announced for Jacksonville/St. Augustine, Florida & Orlando, Florida

 

Past Town Halls

Columbia

Tuesday, February 11th, 6:00pm-7:30pm @ College Place United Methodist Church

Florence

Tuesday, February 18th, 6:00pm-7:30pm @ Central United Methodist Church

Aiken

Thursday, February 20th, 6:00pm-7:30pm @ St. John's United Methodist Church

Columbia

Thursday, February 27th, 6:00pm-7:30pm @ Columbia College (Live Streaming)

Greenville

Tuesday, March 3rd 6:00pm-7:30pm @Buncombe Street United Methodist Church - Trinity Campus

Myrtle Beach

Tuesday, March 10th 6:00pm-7:30pm @First United Methodist Church of Myrtle Beach

Frequently Asked Questions

What components are directing the College's future: a coed element?

The number of women's colleges has dropped from 230 in 1960 to 34 in 2018 with only 17 expected to be in operation by 2026. The board of Trustees, since 2016, have been discussing the possibility of Columbia College admitting men into the day program. Several efforts have been explored, but the Trustees have continued to stay the course with the women's college. At this point in the history of the College, all of the initiatives that have been undertaken since 2016 have not proven fruitful in growing the enrollment of the women's college. The College does not have the reserves to invest in future initiatives and it does not have the resources that any sustainable college has for emergencies. Columbia College must strengthen its financial position. To do so, we need to increase enrollment. While we have made some progress in recent years, the progress has been insufficient to put us in a strong fiscal position. It is now important to take the next steps toward ensuring financial health and long-term sustainability for Columbia College. 

Who will plan the model to bring men into the day college?

A task force has been identified and will begin work immediately following the approval by the Board of Trustees. The task force reaches across all units of the campus. It will serve as a steering committee with multiple working groups to look at all aspects of the plan to admit men into the day college. The task force, as a part of its charge, will examine all opportunities to maintain women-only programming to continue to reap the benefits of single-sex education for women. 

Will the academic programs change?

Columbia College will maintain its academic structure of five divisions (Arts and Humanities; Business, Entrepreneurship and Technology; Education; Health, Mathematics and Sciences; Social Sciences). We have added new programs with the intent of enrolling new populations of students in the recent past. We will continue to look at new programs that will attract men but also attract women. Our academic programs will continue to expand. At the same time, we will phase out programs that are under enrolled. Columbia College includes the women's college, evening college, online (both undergraduate and graduate) and graduate college currently. This will continue into the future. 

How will we preserve the traditions of Columbia College?

Over its long and rich history, Columbia College has many rich and engaging traditions. We will look to these traditions as we plan for the future to incorporate those into a new era at Columbia College and continue to develop new traditions in keeping with the current student population. Columbia College will remain true to its roots and founding by the Methodist Church. 

Why didn't you involve us in the decisions made up until now? Why didn't you let us be part of the process? 

Columbia College has been looking for solutions to declining enrollment at the college for years. As you know we've tried a number of approaches to keep single gender learning in tact. We've had to make many difficult decisions along this path. We've cut positions- and put off making needed repairs around campus. Research and evidence tells us this is the way to move forward. 

We look forward to sharing more information with you and hearing your thoughts on how we can move Columbia College forward, together, for future generations.

Data/Research

Cultural shifts, population trends, and different expectations for student engagement are prompting more single-gender colleges and universities like Columbia College to expand enrollment. 

Our decision to go coed is research based. Taking a look at our own numbers, the Women's College undergraduate program has declined substantially over the last 10 years from 864 students to 641 students.  

The Columbia College Board of Trustees and President have researched changes in educational trends since 2016. What we discovered is currently less than 2-percent of female, college-bound high school students consider attending a single-gender college. 

In addition to the number of women seeking a single gender education- there's an impending 15% decline of high school graduates, and challenges facing higher education.

Female Enrollment Growth

Most schools saw a significant growth in new female enrollment after the transition to a coed model.

Male Share of New Freshmen enrollment, Four years after transition

In most cases, men remain a minority.

Undergraduate Enrollment: 2010-2019

Fall Semester (Ten-Day report) Headcount by Program

 

Planning Working Groups

Admissions                                                                 

Charge:  Design and implement changes for prospective male incoming students.  From email communication to the tour script, implement changes to current communications and outreach to incorporate messaging that is suitable for coed.

Marketing

Charge:  Design and implement changes to the website and marketing materials to incorporate messaging that is appropriate for coed recruitment.  Build out a coed college section of the website to funnel prospective students to the applicable area.

Communications

Charge:  To outline ongoing communication strategies for all constituencies.  This will include, but not limited to emails, print, social media and in-person meetings.

Resident Life & Housing

Charge:  To develop a plan for building assignments.

Inclusion Policy

Charge:  Recommend changes to current policies for an inclusive campus, including the incorporation of male students and development of a supportive trans and non-binary gender policy.

Student Activities & Traditions

Charge:  recommend changes to campus activities that will engage all genders and work with student organizations to update constitutions.

Campus Safety

Charge:  Outline new or revised policies and procedures to put in place to maintain the safety of our campus community.

Facilities

Charge:  Work with Student Affairs working group regarding housing for male students and assist the Athletics working group with determining resources for male sports team.

Staff

Charge:  Determine needs for staff development in preparation for coed environment.

Athletics

Charge:  Identify and recommend the addition of sports and the accompanying needs for success in the areas of athletics.

LA Series

Charge:  Review the LA series, including adding LA 401.  Consider making series, except LA 1`00, required for all programs, including online and evening.  Consider how to separate gender.

Professional Development – Faculty

Charge:  Evaluate need for professional development to adapt courses and classroom delivery to coed environment.  Plan for professional development workshop/sessions.

Academic Programs

Charge:   

Identify and evaluate which course students would most benefit from a women's only track.
Identify and evaluate which programs would attract male students.
Identify and evaluate which programs would be most feasible to implement a women's only track considering factors such as enrollment and faculty resources.
Once programs chosen, plan implementation.

General Education

Charge: 

Assess which courses should be offered with women's track sections(s)
Plan schedule for first academic year
Plan to limit choice for Gen Ed.