Build Your Leadership Skills 
The Center for Leadership & Social Change's mission is to cultivate courageous leaders, one voice at a time. We provide students with leadership opportunities on and off campus that allow them to explore their passions, hone their strengths, and develop their leadership potential.
Leadership Programming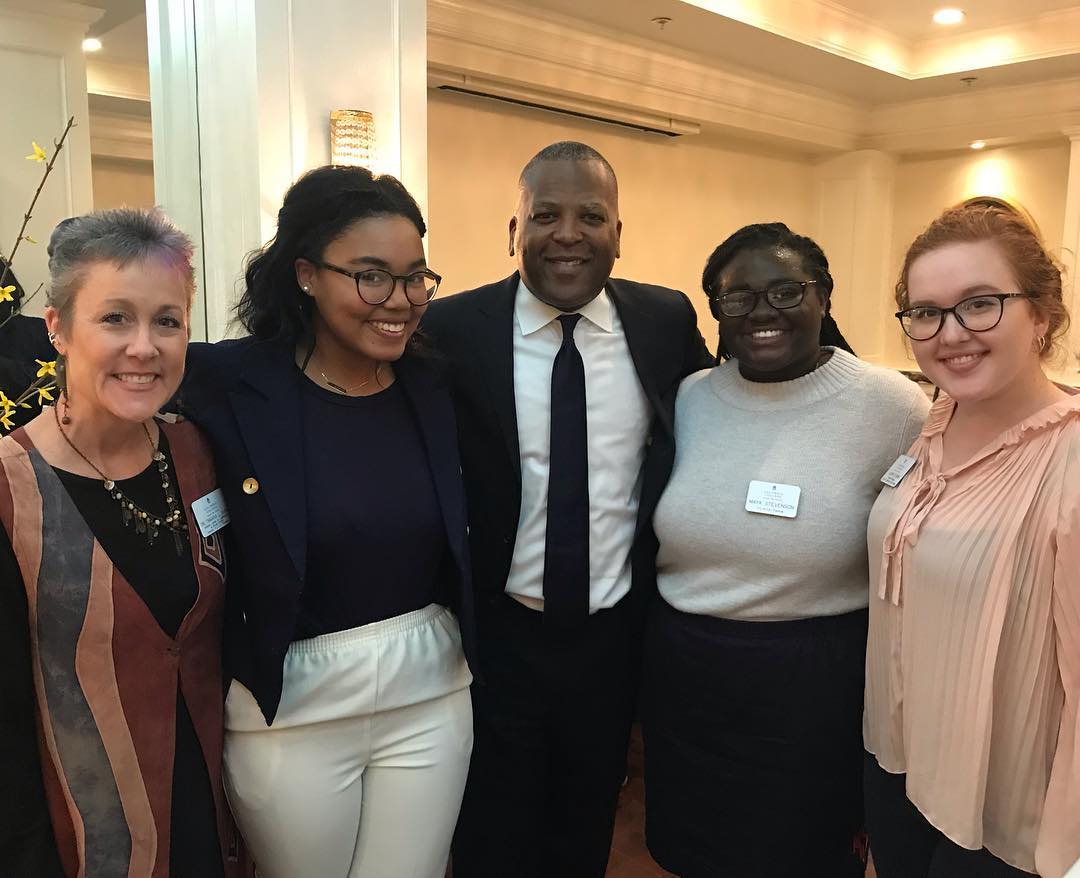 The Center provides students with a number of opportunities to develop their leadership skills: 
Leadership Minors
Add a minor in leadership to any major to learn about effective leadership principles and practices. 
Academic Leadership Certificates 
Take advantage of a 9-hour experiential learning opportunity, including two core courses and three applied projects, to attain your Emerging Leaders Academic Certificate. 
Badging Opportunities 
Earn leadership badges to showcase your credentials on ePortfolios, social media, and your resume. 
Leadership Semesters
Complete a semester-long course devoted to your leadership development. We'll expose you to models of leadership within your field and prepare you to apply your new skills. 
Omicron Delta Kappa 
Join ODK, a highly respected, national leadership honor society that focuses on honoring and developing leaders. 
P.L.A.C.E. Fellows Program 
Commit to philanthropy, leadership, and community engagement by becoming a P.L.A.C.E. Fellow. Learn about the P.L.A.C.E. Fellowship Program. 
Interactive Programs
Attend on and off-campus events on select Tuesdays and Fridays. We created Treat Yo Self Tuesdays to promote self-care through yoga, guest speakers, focused conversations, and more. On select Fridays, we organize for off-campus team-building exercises and fellowship with friends. 
Create Social Change 
We encourage engagement in social issues because we define leadership as the choice to exercise the power of education in a way that both fulfills social responsibilities and embraces opportunities to create positive change in ourselves and in the world around us. 
Social Change at the Margins Speaker Series 
We host speakers and screenings throughout the school year to engage students in discussions about current events. Our Social Change at the Margins speaker series facilitates courageous conversations focused on issues that influence marginalized communities, such as sexual assault, poverty, mental health, immigration, and race relations.
Additional Leadership Services & Programs 
We work with groups across campus as well as the community to promote leadership opportunities. Explore some additional opportunities we can connect you to. 
LeaderSHIFT

Find your own voices and learn to live your life intentionally. Our certificate programs allow you to identify obstacles and chart a course of purposeful change.

Mentoring Program

The Leader2Leader Mentoring Program matches Columbia College students with women leader mentors across South Carolina, many of whom are alumni of the College.

Become a Mentor

To become a mentor to a Columbia College undergraduate student or to learn how you can get involved with the Center for Leadership, call us at 803.786.3729 or email leadership@columbiasc.edu.

Summer Leadership Institute

A series of three progressive leadership intensive weeks and an entrepreneurship-focused program are offered through Columbia College's prestigious Summer Leadership Institute, which has served more than 2,600 high school girls since 1990. This residential summer program is offered to high school students and is aimed at developing and practicing the leadership skills necessary for success.

Student Success Leaders

Student Success Leaders are peer mentors that work one-on-one with students, aiding in their overall academic, social and professional success.

Their main responsibilities are as follows:

Help mentee to establish positive, personal relationships with their peers, instructors, as well as other community professionals.
Help mentee to obtain/maintain short and long term academic goal as well as to obtain effective life skills.
Assist mentee in accessing academic and college resources.
Assist students in developing appropriate interpersonal, study, and goal setting skills.
Enhance mentee's ability to interact comfortably and productively with people/groups from diverse racial, ethnic, cultural, and socioeconomic backgrounds.