Making an Impact 
We're proud of our Columbia roots, and we strive to connect our people and our resources to the community. Our students volunteer with local service groups. Our coaches and instructors teach young people new skills. And we invite organizations and businesses to host events on our beautiful campus. 
Visiting Campus
Coming to campus for a camp, event, or meeting? We're excited to host you, and we want to make sure you find just what you're looking for. Use our map tools for easy navigation around campus. 
View Online Map
Get Printable Map 
Columbia Community Family Practice
In partnership with Cooperative Health, Columbia College has brought new access to quality healthcare to our campus and neighborhood community. Columbia Community Family Practice provides primary and preventative services for adult and pediatric patients, in addition to behavioral health counseling.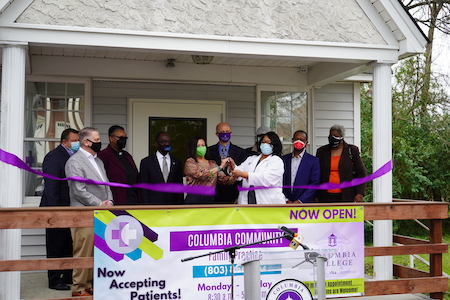 The practice will promote optimal wellness for campus and community members by removing socioeconomic barriers to care, enabling individuals to make informed health decisions, and empowering individuals to be self-directed consumers of their health care services. 
Columbia Community Family Practice is located across from College Place United Methodist Church and is open Monday through Friday from 8:30 a.m. to 5:00 p.m.
Please call (803) 888-1106 to schedule an appointment.