March 13, 2020 - March 22, 2020
Belles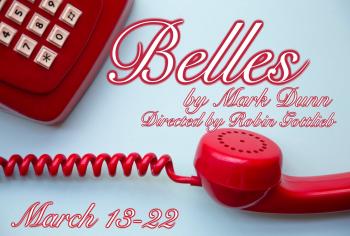 by Mark Dunn
Directed by Robin Gottlieb
Told in "two acts and forty-five phone calls," Belles visits six southern sisters, who, over the course of an autumn weekend, seek to bridge the physical and emotional distance between them via the telephone, and in the process come to terms with their shattered family history. The six Walker sisters hail from Memphis, but now they are scattered all over the country. Only Peggy still lives in Memphis, where she cares for Mama. When the play begins, Peggy is phoning her sisters to tell them that Mama is in the hospital. Nothing serious she just ate some bad tuna. An intriguing story of vivid characters and involving conflicts emerges in the ensuing phone calls among the sisters.
The gold standard among Mr. Dunn's many plays about southern women, and offering very strong roles for an ensemble of six actresses, Belles continues to pack an emotional punch after all these years.
All performances will be at Columbia College's Cottingham Theatre, located at 1301 Columbia College Drive, Columbia, SC, 29203. Parking is available on campus.
the Box Office at 803-799-6551
Back to Events