January 22, 2020 - January 25, 2020
January 17, 18, 22, 23, 24 & 25 at 8 pm January 19 & 26 at 3 pm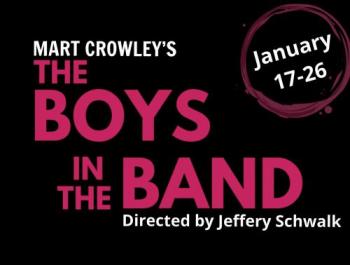 by Mart Crowley
Directed by Jeffery Schwalk
Fault lines beneath friendships, self-inflicted heartache come to light in this groundbreaking play
SHOW DATES & TIMES:
January 17, 18, 22, 23, 24 & 25 at 8 pm
January 19 & 26 at 3 pm
PRICES: Adults - $20; Seniors - $17; Military - $17; Students - $15
Workshop Theatre kicks off 2020 with Mart Crowley's poignant play The Boys in the Band, on stage from January 17-26.
In his Upper East Side apartment, Michael is throwing a birthday party for Harold, a self-avowed "thirty-two-year-old, pockmarked, Jew fairy," complete with surprise gift: "Cowboy," a street hustler. As the evening wears on – fueled by drugs and alcohol – bitter, unresolved resentments among the guests come to light when a game of "Truth" goes terribly wrong.
This groundbreaking play premiered Off-Broadway in 1968 and ran for 1,001 performances. It was subsequently made into a feature film with the original cast, directed by Academy Award-winner William Friedkin. In 2018, The Boys in the Band made its Broadway debut at the Booth Theatre in an unprecedented production featuring a cast of entirely out-and-proud gay actors. This new edition contains both the original two-act script and the one-act Broadway version, as well as an introduction by celebrated playwright Tony Kushner.
This Tony Award-winning play has been called "a landmark gay play" by the New York Daily News and was credited with helping "spark a social revolution" by the Associated Press. The all-male cast, guided by director Jeffery Schwalk, features Brandon Chinn, Charlie Goodrich, Sam Hetler, Marcus Allen Johnson, Josh Kern, Kashaad Kraus, Houston Ortloff, Alex Robinson, and Lanny Spires.
General admission ticket sales begin for members on January 8, and for the general public beginning January 10. Tickets can be purchased online or by calling the Box Office at 803-799-6551 from noon to 5 pm during the week. On the weekends, the Box Office opens two hours before the show begins. Tickets are also available at the door the night of the show.
All performances will be at Cottingham Theatre on the campus of Columbia College 1301 Columbia College Drive | Columbia, SC
The Boys in the Band is recommended for MATURE AUDIENCES ONLY due to nudity and sexual situations.
Box Office at 803-799-6551.
Back to Events