Our mission is to prepare every student personally and professionally for success through liberal arts and professional programs emphasizing service, social justice, and leadership development.
The Four Cs
We define leadership as the choice to use your education to create positive change, in yourself, and in the world around you. The Four Cs are an expression of this emphasis. 
Courage—step up and accept the risks that come with reaching your goals
Commitment—step in and embrace the values you hold dearly
Confidence—step out, chart your course of action, and seize opportunities
Competence—step back, reflect, develop insights, and improve your effectiveness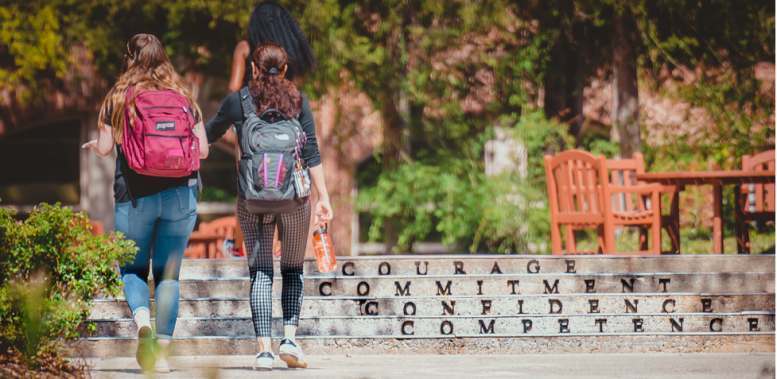 The vision of Columbia College is to empower our students to change the world with Courage for Innovation, Commitment to Social Justice, Confidence through Service, and Competence in Leadership.
Core Values
Academic Excellence
High expectations for preparing our students for lifelong learning through a liberal arts education that promotes critical thinking and personal growth and provides career preparation and mastery of a range of transferable skills.
Student Success
Creating innovative learning environments and providing support services that are nurturing and hold the students accountable for their success.
Diversity, Equity, Inclusion
A diverse set of backgrounds and perspectives, a sense of belonging, and feeling welcomed.
Service to Community
Responsibility to give back to the community, to collaborate, and to seek meaningful experiences and opportunities for leadership for all.
Columbia College History
Columbia College was founded in 1854 as Columbia Female College by the Methodist Conference of South Carolina. The College, located on Plain Street, now Hampton, in Columbia, SC, opened to students in October 1859.
In 1865 during the height of the Civil War, the College closed as General Sherman's troops approached Columbia but reopened in 1873. In 1904, the College dropped "Female" from its name and moved to Eau Claire after benefactors Frederick H. Hyatt and Col. John T. Sloan donated land.
 
In 1964, the campus survived a fire that destroyed the Old Main classroom building and the East Wing Dormitory. What remained of the columns became a symbol for the College and has since been incorporated into the logo.
Columbia College continues to serve as an institution for higher education, with approximately 1,500 male and female students in both undergraduate and graduate courses.
Alma Mater
We sing the praise of her we love, 
We lift on high her name in song, 
White as the gleaming stars above, 
Columbia, mother, great and strong, 
She who has been shall ever be, 
Wise, good, and true eternally; 
No stain shall touch the purity 
Of our Columbia College.