Play the Sport You Love
We recruit student-athletes who have a passion for their sport and can make an impact on the team. We're a member of the National Association of Intercollegiate Athletics (NAIA) and the competitive Appalachian Athletic Conference (AAC).
Scholarships
We give athletic scholarships to talented student-athletes. Take advantage of the opportunity to save money on your college tuition while playing the sport you love.
Visit gokoalas.com for the latest scores, rosters, and schedules. 
Men's Teams 
Join our inaugural teams. Help us make our mark in our first years of competition. Fill out our recruiting questionnaire for more information.
Women's Teams
Our women's teams have succeeded at the conference and national levels. Fill out our recruiting questionnaire for more information.
Lifelong Lessons Unbreakable Bonds
Behind the Stat
Worth ethic that translates in the classroom and throughout life.
Behind the Stat
Recognized for our integrity, respect, responsibility, sportsmanship, and servant leadership.
"I am grateful for this journey that I am on and blessed to have such wonderful teammates, family, friends, professors, and coaches, who have helped me become the best version of myself."
— Makayla Hollifield
Class of 2023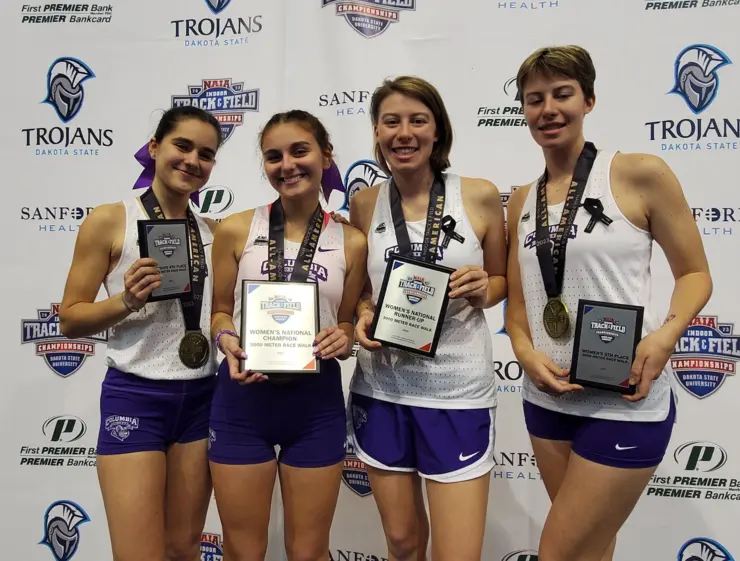 Track & Field Feature
Koalas Make History
We're proud of our very own Izabelle Trefts (Class of 2025) for winning a national championship in the 3000m race walk, the first in school history. All four of our race-walk student-athletes were named All-Americans for their accomplishments this season. That makes senior Victoria Heiser-Whatley (Class of 2023) an impressive four-time All-American. Plus, 15 Koalas earned AAC post-season recognition as All-Academic and Champions of Character honorees—recognizing their accomplishments on and off the field.