President's Circle Society
The President's Circle is Columbia College's leadership annual giving society. The Society includes alumni, faculty, community members and others who share the common goal of furthering Columbia College's mission to prepare every student personally and professionally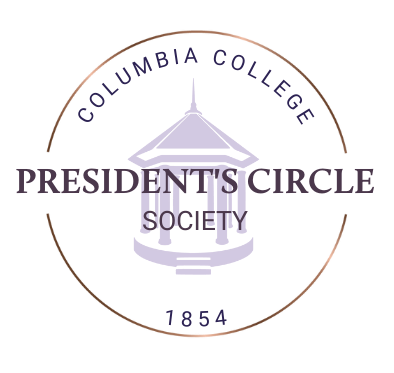 for success through strong liberal arts and professional programs emphasizing service, social justice, and leadership development. The Society is comprised of like-minded benefactors giving a minimum of $1,000 annually who demonstrate exceptional generosity for the benefit of all of Columbia College.
There are many ways you can impact Columbia College, but joining the President's Circle Society through your leadership gifts helps address prioritized areas of need and opportunity throughout the College's fiscal year (July 1 – June 30). 
To renew your support or become a member of the President's Circle Society, contact Mary Kathryne Wadford in the Columbia College Office of Advancement at mwadford@columbiasc.edu or 803-786-3015. 
President's Circle Society 2022-2023

Mark and Cathy Adams
Kit (Gardner) '69 and Thomas Adkins Jr.
M. Donald and Lisa Alexander Jr.
Terri Alston '99
Debra Gravelle Antion '86
Tim and Edie Arnold
Karen Atkison '73
Angela (Maselli) '08 and George Ballantyne Jr.
Beth (Dickert) '69 and Orin Beach Jr.
Tom and Mary Bogart
William Bolick
Jeffrey Bowe
Nancy (Jones) '65 and James Bradley Jr.
Marion Brannon
LaNae' Briggs-Budden
Jane Castles Brooks '58 
Charlotte (Stackhouse) '75 and Michael Broome
Nancy (Leaman) '67 and Robert Buchanan Jr. 
Erin (Gilreath) '03 and Erik Carlson
Mary Carole (Smith) '64 and Robert Caughman
Anne Maner Clardy '62
Patricia (Hodges) '73 and William Clark Jr. 
Barbara Knox Cobb
Ruth Anne (McCarter) '68 and Larry Collins
Nancy (Vaughn) '73 and Harold Coombs
Barbara (Dennis) '49 and Baylis Corley
Janet Alexander Cotter '56
MaryAnn (Smith) '59 and Jerry Frank Crews Jr.
Ann (Langley) '61 and Robert Darby
Dorothy Marie Davidson '89
Sally (Anthony) '73 and Robert Davis
Susan (Gibbons) '77 and Hartwell Dew
Linda (Jones) '68 and William DuRant
Chelsea (Lee) '08 and John Eichorn II
Cheryl Flynn
Marina (Emory) '09 and Joseph Fulton
Denise (Corley) '73 and James Godowns
Leah (Chisolm) '70 and George Gore Sr.
Teri (Wangler) '93 and Jeff Grieb
Josephine (Matheny) '64 and Frank Griffith
Van and Delores Gulledge
Carolyn Bayne Hamby '56
Jewell (Powell) '60 and Robert Hill Sr.
Joye and James Hipp Jr. 
Brenda Hooker Hood '69
Connie Kay (Bannister) '60 and James Keeley
Jennifer Burch Jones '04
Martha (Lyman) '77 and Michael Jones
Kay Rogers Jordan '59
Thomas and Doris Keith
Fred Kinard Jr.
Reamer and Betty Gail King
Susie (Floyd) '59 and Heyward King Jr.
Tiffany Knowlin Boykin '03 
Marion and Catherine Knox Jr.
Lynn (Scanlan) '65 and Herbert Lawton III
Kay (Woods) '88 and Lawson Lewis Jr.
Linda (Crouch) '64 and Martin Lightsey
Marjorie (Herbert) '60 and Joseph Lucas 
Rachel (Cobb) '92 and B. Kevin McCutchen
Kathy (Watson) '76 and Joseph McElveen, Jr.
George and Nieves McNulty
Michael Meekins
Catherine Miller '08
Elizabeth Clyburn Minus '62
Emil Burns Mitchell '84
Margie Mitchell '83 
Cynthia Farr Muldrow '68
Lori Mumpower '98 and Janson Jones
W. Ben and Sandra Nesbit
Margaret (Caswell) '09 and Stephen Parker
Alice Paysinger '74
Mary Ann Reeves Phillips '56
Betha Roper Piper '73
Lucy (Lorick) '59 and Thomas Powers Sr.
Rebecca (Baker) '62 and John Pugh
Ben and Sidney Rex
Doris Rawl Reynolds '48
Edna (Staubes) '73 and Cammack Roberds Jr. 
Maro Kouyoumjian Rogers '56
Dale Rogers '67
Rion Rutledge
Stephanie (Mitchell) '96 and Adam Schechter 
Cathleen Shields '71
Candy Crane Shuler '73
Judy and Parks Small 
Meta (Rast) '65 and Cary Smith
Sandra Steele '71
Kathryn (Bruner) '80 and David Stone
Carol Rich Storey '68
Tiffany (Smith) '97 and Damion Sullivan 
Richard and Jill Sweet
Mark Timbes
Rita (Eldridge) '64 and F. William Vandiver Jr.
Carol Vaughn '71
Danielle (Saunders) '91 and Stephen Walsh
Patricia Warne '71
Sandra (Barrett) '70 and Charles Welch
Kaymani Daniels West '97
Patricia Cave Whitaker '55
Ann White '76
Christine (Edens) '72 and Michael E. Wiggers
Kristin Wilson '17
Margie (Coleman) '61 and Wayne Yarbrough
Emerging Leaders Society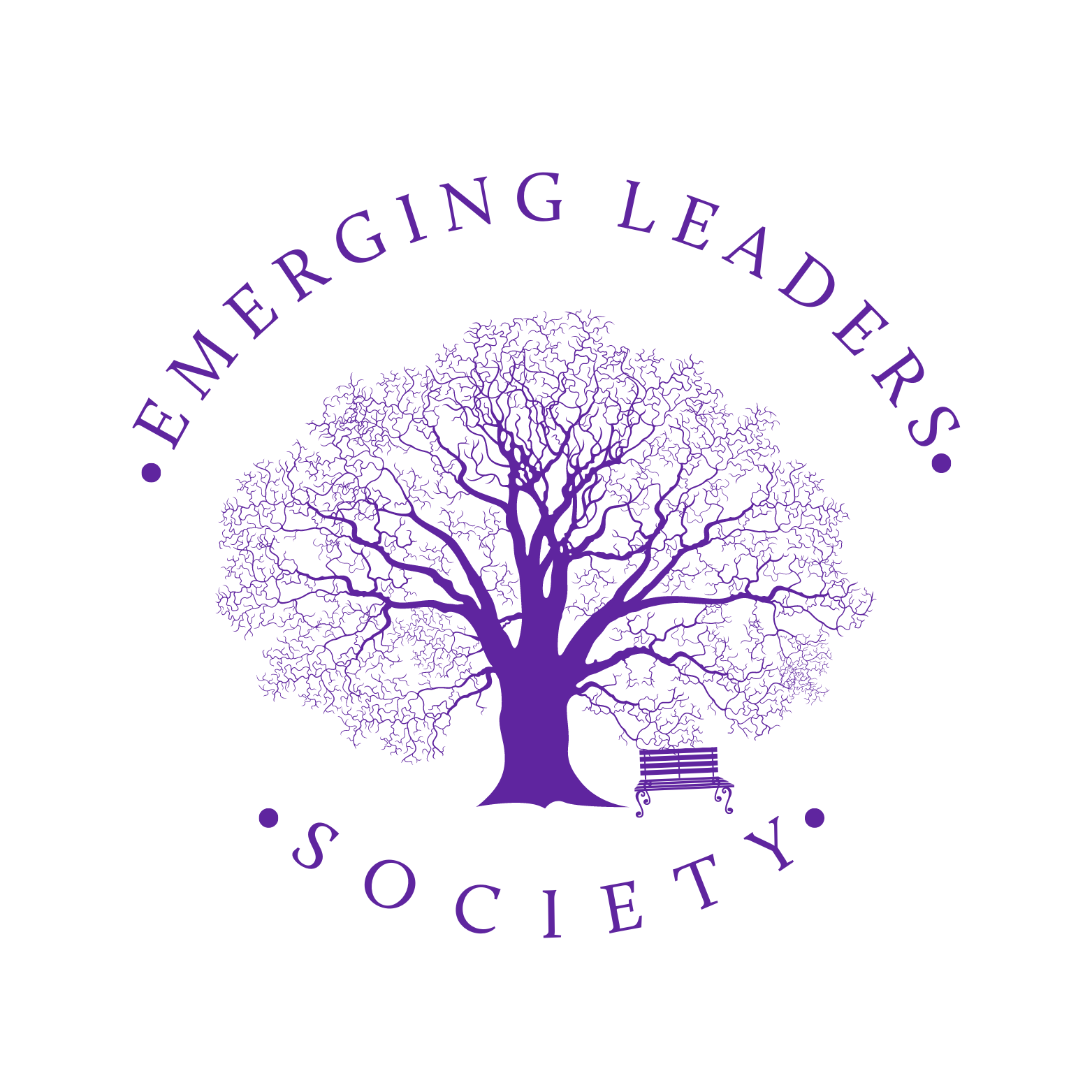 Emerging Leaders at Columbia College is recognition for young alumni (10 years out or less from any program) who claim the Columbia College mission as their own.
When a graduate of the last 10 years has annual giving equivalent to the levels listed below, they become members of the Emerging Leaders Society for Columbia College's fiscal year (July 1 – June 30).
Four Levels After Graduation
$100 annually OR $8.34 monthly  for alumni 1 - 3 years out
$250 annually OR $20.83 monthly for alumni 4 - 5 years out
$500 annually OR $41.67 monthly for alumni 6 - 8 years out
$750 annually OR $62.50 monthly for alumni 9 - 10 years out
Emerging Leaders Society Benefits
Decal signifying Emerging Leaders giving
Columbia College key chain & wine glasses
Invitations to special networking events and President Circle Society receptions
President's Report each fiscal year
If you have any questions about the Emerging Leaders Society or wish to discuss renewing your support or becoming a new member, contact Hope Watson, Director of Annual Giving, at hwatson@columbiasc.edu or 803-786-3763. 
Emerging Leaders Society 2022-2023

Marnita Caraway '20
Cherokee Comeau '20
Justin Dagit '20
Terrance Ford '20
Betsy (Senecal) George '20
Tanya Gillie '22
Jennifer Harki '21
Mackenzie (Shannon) Lowery '21
Vincent Maloney '19
Nicole Mccune '21
Laresha McDaniel '15
Jennifer Sanders '20
Jamesha Shackerford '15
Hope Watson '18
Kristin Wilson '17
Koala Club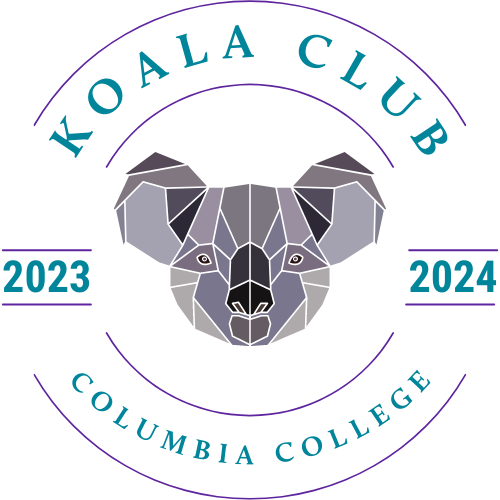 Members of the Koala Club are among our most loyal donors to Columbia College. When you make an annual gift, no matter the size, for5 or more consecutive years you are recognized as a Koala Club donor. 
This recognition program is based on annual gifts to Columbia College each fiscal year (July 1 – June 30). Koala Club members will receive a decal signifying their membership and regular communication from the College throughout the year. 
If you have any questions about your Koala Club membership, please contact Hope Watson, Director of Annual Giving, at hwatson@columbiasc.edu or 803-786-3763.