April 4, 2023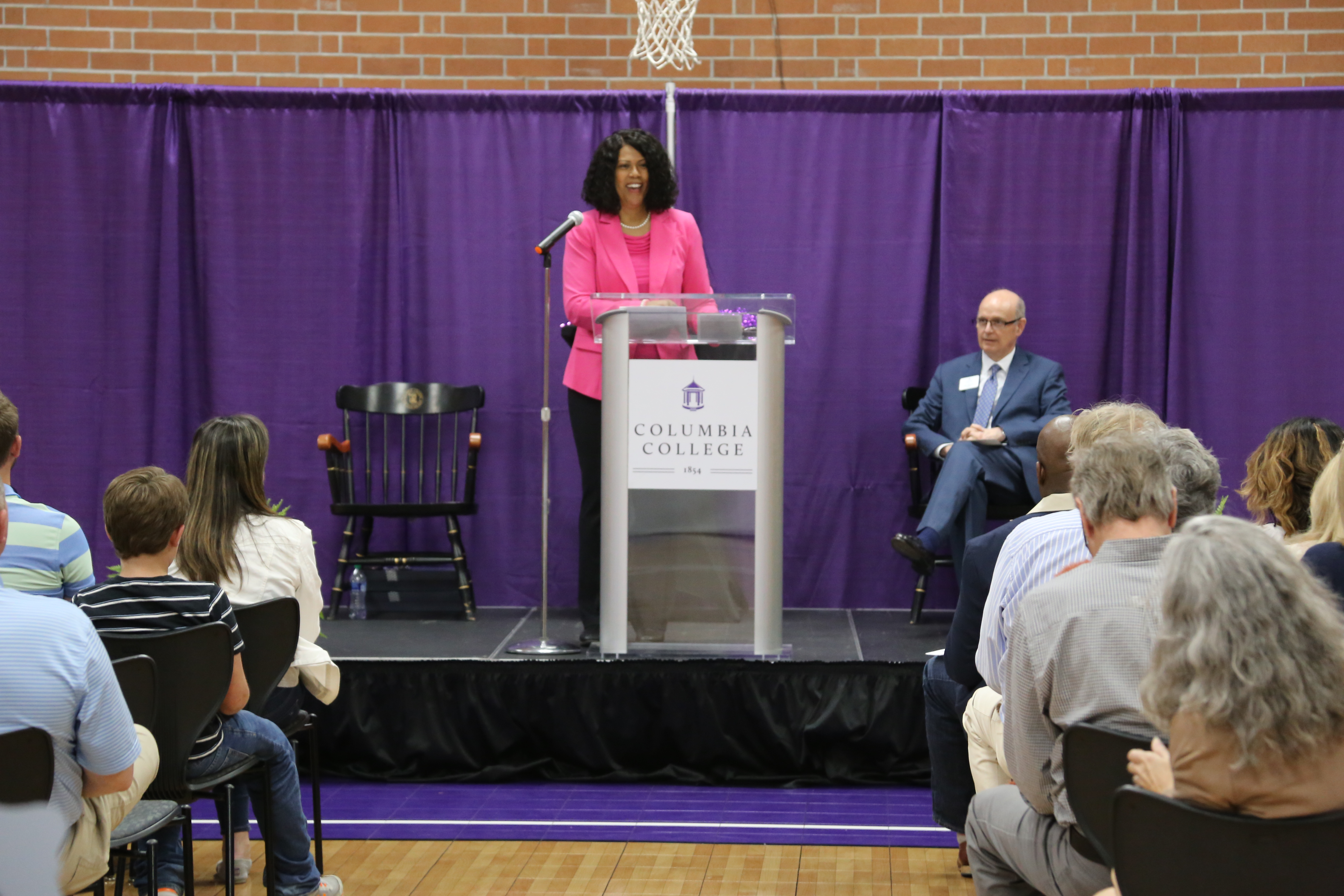 COLUMBIA, SC- Columbia College Athletics welcomed the two newest members of the Athletics Hall of Fame on Saturday, April 1, during an induction ceremony in the Godbold Gymnasium.
Both 2017 graduates of Columbia College, Ashley Tanner Gourdin (Soccer) and Kendra Blackstock (Lacrosse), were honored by President Tom Bogart and Director of Athletics Deborah Wardlaw in front of a crowd of alumni, current students, staff, as well as friends and family.
Ashley Tanner Gourdin made a lasting impact during her four years on the pitch; Tanner graduated as the school record holder for goals (70), assists (50), points (194), and game-winning goals (20). In addition, she was named the AAC Offensive Player of the Year (1) and the AAC Freshman of the Year; she also won two AAC Golden Boot awards.
"One of the most memorable things about playing at Columbia was playing alongside my sister; the Tanner girls were something else on the field."
"I would like to thank my friends, family, and coaches for always inspiring me and molding me into the player I was and the person I am today... Go Koalas"
Kendra Blackstock served as the Women's Lacrosse team captain all four years; she was an inaugural team member and a force between the lines. Blackstock was the first All-American in school history and then tacked on three more All-American nods to become the first four-time All-American in Columbia College history.
Blackstock was named the AAC South Region Defensive Player of the Year in 2014, then switched ends of the field, won the Offensive Player of the Year award in 2015, and earned conference Player of the Year. She was first-team All-South Region in 2014, 2015, and 2016; during her senior season, she ranked in the top 10 nationally in assists, game-winning goals, points, shots, free position goals, and draw controls.
"I wouldn't be here today without family, friends, teammates, and coaches along the way. My time at Columbia was the most challenging yet rewarding of my life; it molded me into the person I am today."
"I'm honored and grateful to be inducted, and I'm so proud of the four years it represents."
"We continue to aspire to the type of standard set by these two, I look forward to continued success from Ashley and Kendra and all in their sphere of influence." - President Bogart.
The 2023 Hall of Fame class is the fifth in school history; the first class was inducted in 2018.
« Back to News