April 29, 2022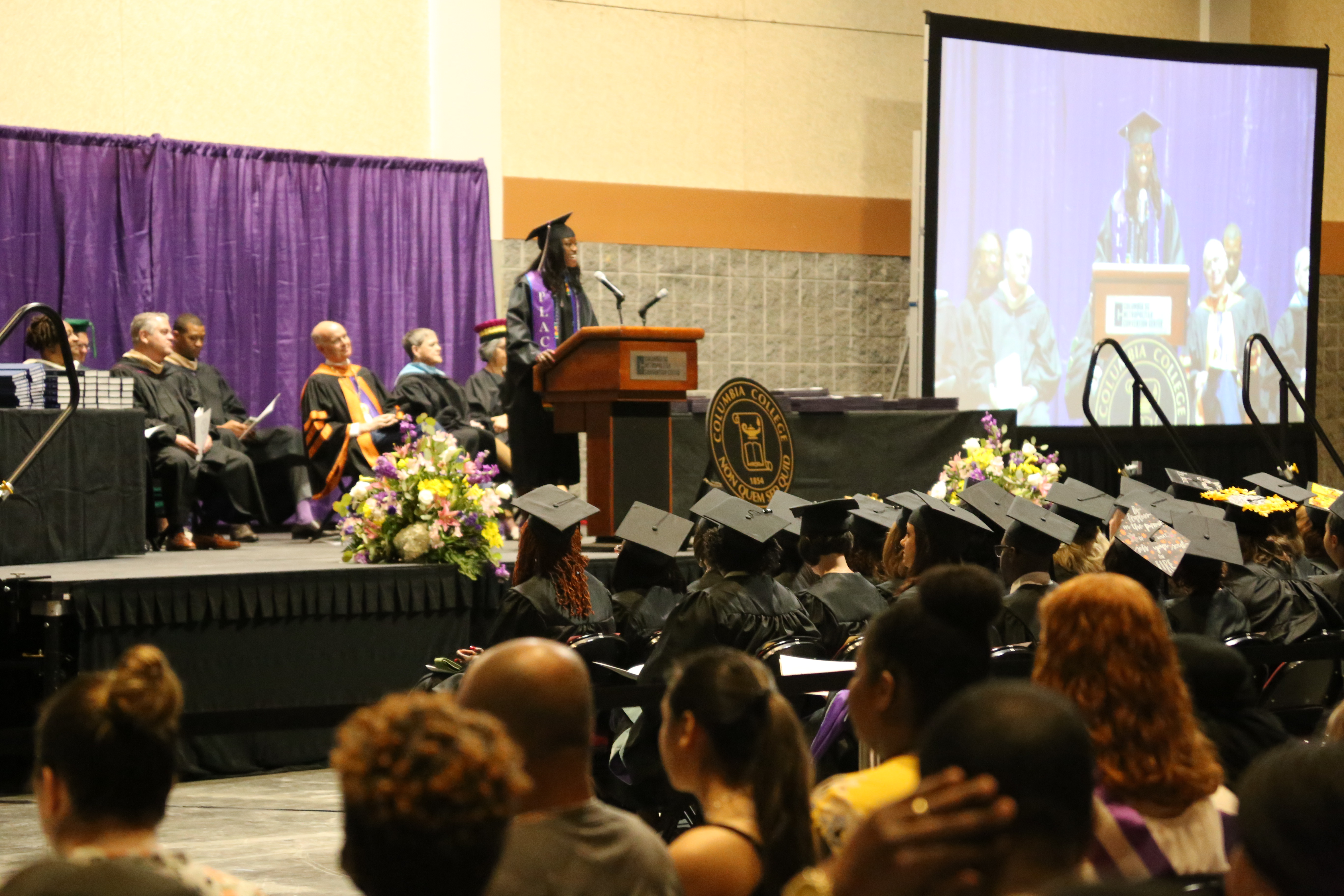 "College is genuinely about discovering yourself and who you are as a person – discovering the type of person you want to become." Graduation Speaker Mikaya Thomas addressed her fellow graduates with words of immense gratitude for their time as students and incredible anticipation for what is to come. Mikaya and 98 of her fellow graduating seniors joined 50 graduate students, as they all were awarded their diplomas this morning. Keynote speaker Dr. Elizabeth Gressette '70, former Executive Director of the Palmetto State Teachers Association, shared that success is not measured by the amount of money one makes or the title one achieves, but rather by the ability to persevere through life's many challenges. During the ceremony, the graduates reflected fondly on their time spent as students, acknowledged the challenges they faced, and looked ahead toward what their futures may hold.
With every quiz, test, essay, Fried Chicken Wednesday in the dining hall, Spring Formal, picnic on the green, or late-night study session in the library, these graduates were not only gaining the education they needed to further their careers, but they were also discovering the people they want to become, just as Mikaya said. They have met with advisors, participated in discussions during class, and made presentations. They have walked to and from class, gathered with friends on the mall, and competed in athletic events. They may have completed their degree online and never even stepped foot on campus. They may be earning degrees four years after their high school graduations, or they may be walking across the stage after decades in the workforce while raising a family. The circumstances are different for each student, but they have all completed the requirements to participate in commencement while also discerning who they are and who they will someday become. The College experience is unlike any other for this and many different reasons. The unique beauty and sadness of watching so many students come and go is to also experience the impact that each class imparts during its time on campus.
President of Columbia College Tom Bogart remarks, "The Class of 2022 has certainly left its mark on Columbia College, and their legacy will live on for years to come. As an institution, we can't wait to see where their lives take them, and we are here with open arms when they return home." The College's sincere hope is that each of these graduates has had a college experience that they will carry with them as they start their careers and make their own way in the world. Columbia College will undoubtedly be impacted by each of them forever.
« Back to News