July 13, 2018
Columbia College Obtains 5 Year Grant for a Center of Excellence in Alternative Certification From the South Carolina Commission on Higher Education
The Alternative Pathways for Educator Certification (APEC) Center at Columbia College is a five-year grant funded program through the SC Commission on Higher Education. Through a unique partnership with Richland School District One and Fairfield County Schools, the APEC Center will support the districts' efforts to recruit, prepare, and retain quality teachers.
"The proposal to establish a partnership between your institution's educator preparation programs and targeted school districts through an alternative route to certification provides evidence of your institution's commitment to alleviating the recruitment and retention challenges these districts experience," wrote Laura Covington, Team Leader for Alternative Certification.  "Columbia College's success in preparing teachers through its approved traditional preparation programs suggests that the APEC Center is well-positioned to provide quality professional development, mentoring, and support for candidates pursuing certification through the proposed program."
The Center will offer an alternative pathway for district employees and career changers to pursue SC teacher certification. The Center will also provide professional development, mentoring, and support to administrators and teachers to improve the performance and retention of teachers in these districts.
 "We are so grateful for the opportunity to extend the outstanding work of the Division of Education here at Columbia College," stated Dr. Marla Sanders, Associate Professor of Education at Columbia College. "Through this Center, working adults in our community will have an opportunity to become classroom teachers. The work of the Center will also meet the needs of our local schools and give our APEC Fellows the opportunity to achieve their goals."
The first cohort consists of 16 students, three who are seeking to complete a bachelor's degree, and 13 who are seeking to complete a master degree.  These students have worked in the field of education as Instructional Assistants, Coaches, and Receptionists for a number of years, and are ready to become certified educators.  This alternative pathway will allow them to continue working full-time in their current career, while taking courses and logging teaching hours to meet the certification requirements.  
One of those students, Shawn Geiger, has been waiting 22 years for this opportunity.  He attempted to finish his degree in Education at the University of South Carolina, but could never finish due to family obligations conflicting with the student teaching requirement.  He said, "The first thing that comes to my mind is Opportunity.  I will finally have the credentials to work in a Learning Displaced classroom, and help fill the need for special educators."  
His is the story of many working adults looking to advance their career or change their career path in the field of Education.  The alternative certification program is comprised of four core modules that are six credits each.  The modules began on July 9, 2018, and will concluded in July 2019.  These modules will focus on pedagogy, theory, and research.  Learning will also happen outside the classroom as the students enrolled in this program will be assigned a classroom in the school district that already employs them, and will be partnered with a mentor.  Additionally, after students complete the program, they will still have access to their mentor and professors enabling them to continue receiving support as they transition into their own classroom.
Dr. Tracy West, Columbia College Dean of the Division of Education and Professor of Special Education exclaimed, "We believe this is an exciting opportunity for Columbia College! We have an outstanding teacher education program with a history of preparing effective teachers. This partnership with Richland One and Fairfield County will allow us to continue our mission to ensure that there is a quality teacher in every classroom."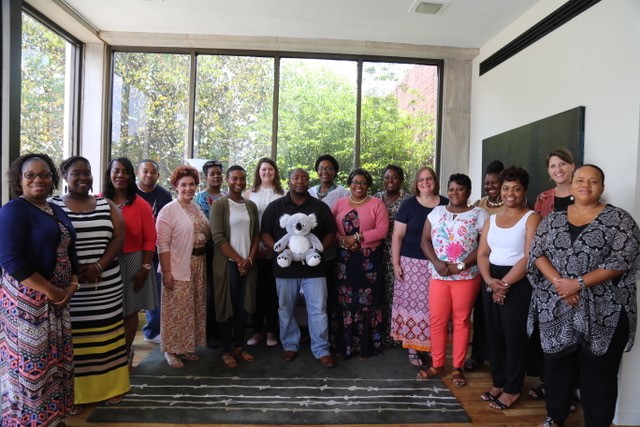 « Back to News