May 16, 2022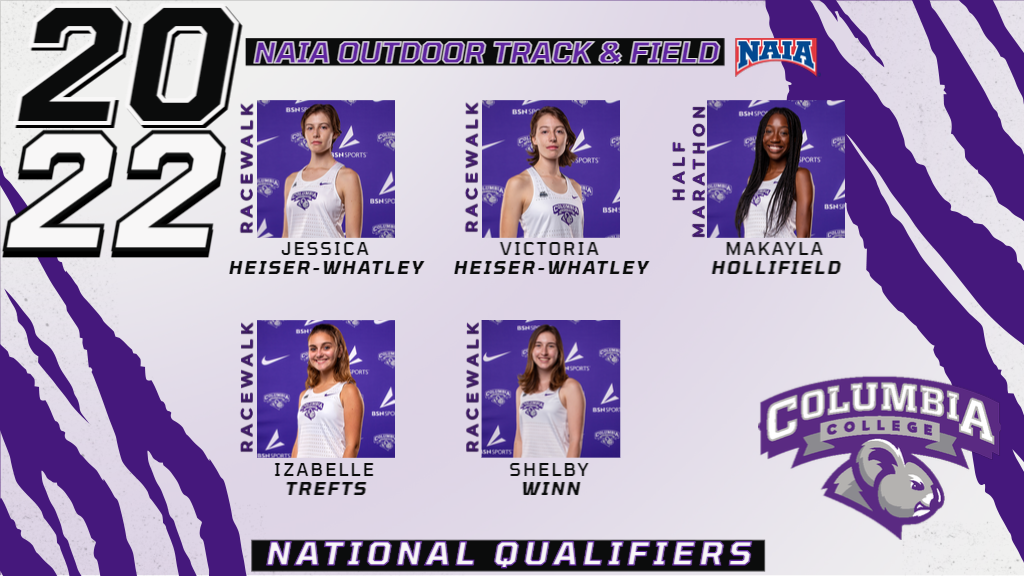 Columbia, S.C. -- For the second time this year, the Columbia College (SC) women's track and field team will send athletes to the NAIA National Championships. After capturing the 2022 Appalachian Athletic Conference (AAC) Outdoor Championship, the Koalas will send four racewalkers and one Marathon runner to the 2022 NAIA Outdoor Track and Field Championships.  
Izabelle Trefts, Jessica Heiser-Whatley, Victoria Heiser-Whatley, and Shelby Winn will compete in the 5000-meter Racewalk at the 2022 NAIA Outdoor Track and Field Championships scheduled for May 25-27 in Gulf Shores, Ala. Makayla Hollifield, who qualified in both the marathon and half-marathon, will also head to the outdoor championships. Only the half-marathon will be contested at the Championships.
At the indoor championships, Trefts set a new personal and school record in the 3000-meter racewalk to finish second in a time of 14:47.70. She also earned her first collegiate All-American honor.
In addition, junior Victoria Heiser-Whatley ran a 16:11.05 to finish fifth, earning her third Indoor Track and Field All-American honor. Her twin sister Jessica Heiser-Whatley placed sixth (16:11.53) to pick up her second Indoor Track and Field All-American honor.
Trefts once again leads the Koala racewalk contingency. She ranks fifth in the nation in the 5000-meter race walks with a season-best time of 26:12.60. Victoria Heiser-Whatley and Jessica Heiser-Whatley rank eighth and ninth, respectively. Victoria has clocked a time of 27:33.57, while Jessica's season-best time is 27:38.62.
Winn is currently 14th in the nation with a time of 29:01.10.
Hollifield has met both the NAIA A and B standards in the marathon and is fourth in the nation with a time of 3:33:58.00. She has met the NAIA B standard and is ranked 31st in the half marathon (1:30:39.60).
Live Stream will be available at the start of the meet by visiting https://portal.stretchinternet.com/naia/?&SPSID=644848&SPID=98897&DB_OEM_ID=27900. 
« Back to News