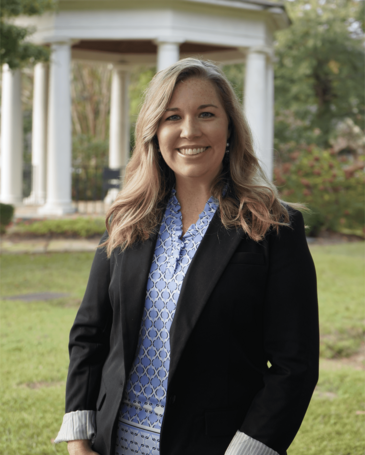 Brooke Bunger, MCD, CCC-SLP
Speech Language Pathology Clinical Practicum Coordinator
Biography
Brooke Bunger, MCD, CCC-SLP is one of our Clinical Coordinators in the Speech-Language Pathology program. She has always called South Carolina home and is excited to give back to her alma mater, Columbia College, where she earned her undergraduate degree. Upon completing her Masters of Science in Communication Sciences and Disorders at The University of South Carolina, she practiced in a variety of settings. Those settings include the public schools, long term care facilities, private practices, and the natural environment of early intervention.  After realizing her passion to help families in the midst of communication disabilities, she began her own practice, Bloom Pediatric Therapy, LLC, seeing clients in their natural environment.
During her career, she has had the opportunity to diagnose and treat children with various disorders. She specializes in treating children diagnosed with Developmental Delays, Feeding/Oral Motor Disorders, Autism Spectrum Disorder, Expressive and Receptive Language Disorders, and Articulation/Phonological Disorders. She has also had the privilege of presenting to parent and preschool teacher groups in the area to bring awareness of the importance of early intervention.
Mrs. Bunger lives in Lexington with her husband and two children. In her free time, she enjoys traveling and experiencing new places. She also loves hiking, camping, and going to the beach with her family.