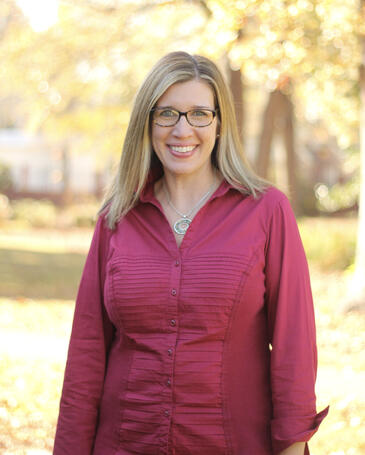 Dr. Karen Thompson
Program Chair
Professor of Psychology
Biography
Dr. Thompson is a Professor of Psychology in the Division of Social Sciences. Dr. Thompson earned a B.S. in Psychology with a minor in Biology from Bowling Green State University (Ohio) and an M.A. and Ph.D. in experimental psychology with an emphasis in behavioral neuroscience from the University of South Carolina. Dr. Thompson has been a Columbia College faculty member since 2000. She teaches classes such as Introduction to Psychology, Statistics, Research Methods, Biological Psychology, Drugs and Behavior, Learning and Memory, and several upper-level research seminars including a Psychology laboratory course.
Dr. Thompson's research interests span many areas, including physiological measures of psychological states, the phenomenon of fear of missing out, perceptions of geek culture, best practices in higher education for psychology, and the infusion of servant leadership into helping professions curricula. She serves as an external evaluator on multi-year NSF grants awarded to faculty colleagues at Columbia College in STEM disciplines. She has also been an exam reader for AP Psychology for several years. Dr. Thompson is married with two sons and enjoys family time at the beach and in the mountains.
Awards & Accomplishments
Invited Contributor, Society for the Teaching of Psychology's This is How I Teach Blog | 2014
Columbia College Faculty Excellence Award | 2003
Publications
Coleman, J. R., Thompson, K. C., Wilson, M. A., & Wilson, S. P. (2017). Audiogenic seizure activity following HSV-1 GAD65 sense or antisense injection into inferior colliculus of Long-Evans rat. Epilepsy & Behavior, 71, 238-242. doi:10.1016/j.yebeh.2016.0
Fields, J. W., Thompson, K. C., & Hawkins, J. R. (2015). Servant leadership: Teaching the helping professional. Journal of Leadership Education, 14(4), 92-105. doi:1012806/V14/I4/R2
Fields, J. W., Thompson, K. C., & Huisman, S. J. (2015). Lives-as-text: Assigning self-narrative to inform learning. In K. Brakke & J. A. Houska (Eds.), Telling stories: The art and science of storytelling as an instructional strategy (pp. 69-78). Availab
Thompson, K. C. (2014, March). Fear of Missing Out and Need to Belong Among Social Network Users. Poster presented at the 60th Annual Conference of the Southeastern Psychological Association (SEPA), Nashville, TN.