Our Social Work Program
Available in: Undergraduate College & Evening Undergraduate.
Different from psychology and counseling, social work addresses societal problems, such as racism and injustice, as well as individual and family problems. Our social work major gives you the opportunity to acquire the knowledge, values, and skills necessary for generalist practice. The major builds upon the liberal arts base required for all students while the major courses address such areas as ethics, human behavior, social policy, social work practice (assessment, interviewing, intervention) and research. 
Catalog/Course Requirements:
Columbia College is accredited by the Council on Social Work Education (CSWE).
Child Welfare Certification
The Division of Social Sciences also offers a certificate in Child Welfare for students interested in working with vulnerable children and families. In order to qualify for certification you will be required to take two courses in child welfare and maintain at least a 3.0 in those courses.
Although not required to receive the certificate, Social Work students who complete a field placement in a child welfare unit at a South Carolina Department of Social Services office will be recognized on the certificate as having met this field experience.
Career Opportunities
Many of our graduates go on to pursue an advanced degree but after graduation, you will be able to immediately pursue a career in social work. If you wish to pursue other areas of Social Work after graduation, you may pursue work and degrees in law, public administration, and education.
The Columbia College Difference
Accreditation and National Recognition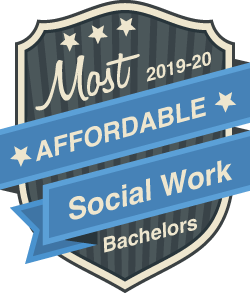 The social work major at Columbia College is accredited by the Council on Social Work Education (CSWE), the national accrediting body for both baccalaureate and masters level social work programs.
Columbia College was recently recognized by Human Services Edu as one of the top, most affordable Social Work programs in the country for the 2019/2020 academic year. The rankings are split between public and private institutions and based on tuition, accreditation, and quality of the program. Human Service Edu is a resource for students interested in Social Work, and the organization weighs-in on the best degree programs in the country.
Advanced Degree Opportunities 
After graduation, you are eligible for advanced standing status at many Masters of Social Work (MSW) programs, including the University of South Carolina and Winthrop University. Admission with advanced standing means you will be exempt from the first year of a two-year graduate program.
Faculty
Shirley Huisman, Associate Professor of Social Work
B.A., Dordt College; M.S.W., Syracuse University; Ph.D., University of South Carolina
Jennifer Dollar, Lecturer of Social Work
B.S., Carson Newman College. M.S.W., University of South Carolina
Resources